How to inquire about traffic violations
If you have any special vehicle to travel in Turkey, you must pay attention to traffic violations that may occur, and the violation is verified by linking your vehicle number to one of the two systems OGS or HGS, which is done through a Turkish bank or via e-mail if you do not have a bank account Turkish to be careful of traffic violations in Turkey.
There are many types of violations occurring, and the first thing you must do is to know the type of violation and the system responsible for the way in which the violation was issued, and we recommend that you pay the violation before 15 days have passed since its release to obtain a 25% discount and to avoid increasing its price later.
One of the most effective ways to find out about traffic violations is to check the page devoted to fines on the General Directorate of Highways website.

How to inquire about traffic violations
Go to the inquiry and payment page on the website of the General Directorate of Highways
Enter the vehicle plate number as shown in the image:

Vehicle data entry page for inquiring about traffic violations in Turkey
After entering the vehicle data, enter the verification code in the image and accept the terms of the site as in the image, then click on Surgula to inquire, then the companies operating the roads in Turkey will appear and under each company the fine, if any, as shown in the picture.
The page for inquiring about fines from all government and private road companies from the General Directorate of Highways website as it is in the picture. You can review all fines with road companies and you can pay them from the same page after selecting them, click on ödeme as shown in the picture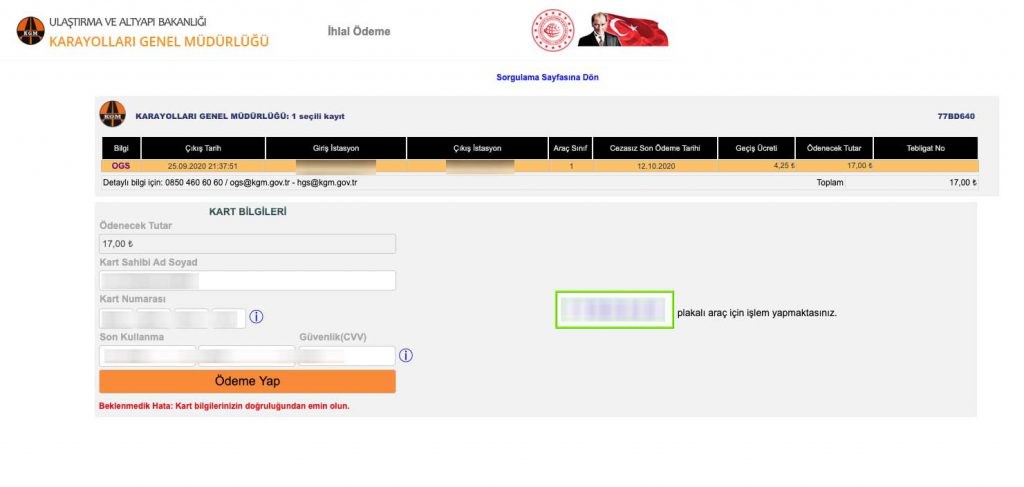 You can only pay with Turkish credit cards to pay your fines through the site, wait a little while after paying and make sure that there is no fine after payment.
Violation rates in Turkey
Whoever pays the fine within 15 days will receive a discount of 25% of the value of your traffic violation, and a fine of 9344 liras will be imposed for traffic companies that do not implement the discount.
Fine value

Fines price list for the year 2021

2000 TL

Walk down the road opposite

1008 TL

Not wearing a seat belt

488 TL

Causing damage to road signs and road signs
Throwing dirt out of the car

9.869 TL

Refuse to blow into the alcohol tester

678 TL

Not giving a pedestrian path on the pedestrian path

1008 TL

Driving without insurance

9.918 TL

Driving without a driver's license

935 TL

Driving between a speed of 88-104 km / h

2488 TL

Driving between a speed of 104-120 km / h

4002 TL

Driving over 120 km / h

535 TL

Driving between a speed of 55-65 km / h

988 TL

Driving between a speed of 65/75 km / h

5002 TL

Driving over 75 km / h

936 TL

Skip the red light

535 TL

Talk to the phone while driving

9888 TL

For those who do not slow down on pedestrian crossing and school lanes

709 TL

parked the car in the wrong place

625 TL

Not to use winter tires